Author: THIRA MOHAMAD
International students pay significantly more in tuition than domestic students, and yet have limited working hours in Canada. The country is known for being popular among students abroad for its friendly work and immigration pathways after graduation.
Although fees in Canadian universities are relatively cheaper than their American counterpart, the reality is grimmer for international students, who've had to deal with sharp tuition fee hikes in the last few years.
As the country's inflation rate hits an all-time high in three decades, the Canadian Federation of Students are pushing for the government to raise the 20-hour work cap for international students due to rising living costs, The PIE News reports. More foreign students are reportedly struggling to stay afloat as basic necessities become increasingly unaffordable.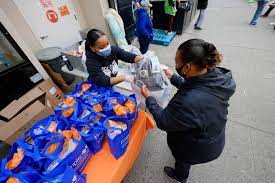 "They come prepared to pay tuition fees but have little money for anything else and quickly end up in traumatic situations," Neeraj Walia, director of the Guru Nanak Food Bank in Surrey, British Columbia, was quoted saying to New Canadian Media.
Walia has seen an alarming uptick in the number of international students from the greater Vancouver area in need of free groceries from the food bank. "About 1,500 of the 2,200 we see here are international students….they come from everywhere: India, Pakistan, South America, China and even European countries," he added.
In Toronto, Colombian-born international student Nicolas Avendano maintains a frugal lifestyle, but cutting costs simply isn't enough even with a part-time job in the fast-food industry.
"There are times when I just say, 'Maybe I won't go out, because I don't have money for that,'" the student told CBC News. "[Education] shouldn't just be a thing that you can access because you have the money or the economic standing in order to achieve."
Will upping working hours in Canada be enough for students? 
Not only do international students have limited working hours in Canada, but they are also ineligible for valuable employment programmes such as Canada Summer Jobs that pair their skills with full-time jobs in the summer. Since employers tend to favour Canadian-born candidates, foreign students are routinely passed over in the recruitment process.
For some, the trade-off hardly seems fair, considering foreign students in Canada spent 22.3 billion Canadian dollars in 2018 alone. "I really feel like international students are treated like cash cows and it's just not very fair to us because we are also just trying to get an education," said Gaayathri Murugan to CBC News.
Tuition fees by source, in billions of constant $2018, Canada's universities and colleges. If not for the pandemic, 2020-21 would have been the year intl student fees accounted for over 50% of all student fees paid; now it'll be 22-23 or 23-24.
The Indian student remarked that most of her Canadian classmates were oblivious to the economic burden that she bears, including taking out a loan from her home country and juggling several part-time jobs while studying at Memorial University.
Adding more working hours in Canada for students like Murugan, though, is just a band-aid solution to a much larger and longstanding problem in the country's higher education industry. According to a 2017 survey by the Ontario Undergraduate Student Alliance (OUSA), as many as 55% of international students find it difficult to afford tuition every semester.
Between 2017-18 and the 2021-22 academic year, the average international undergraduate fees in Canada has steadily increased from CA$25,549 to CA$33,623. The minimum hourly wage in Canada is anywhere between CA$11 to CA$16, depending on the province.
The economic toll on international students casts a shadow over Canada's promise as a ticket towards better prospects through the study-to-immigration route. "When they come here to study, they are not prepared for rising costs or COVID or any other crisis that hits them," said Walia, who is looking at establishing international student orientation programmes in key source countries to help them adjust to life in Canada.
Source: https://www.studyinternational.com/news/working-hours-in-canada-students/