Boris Johnson has said the UK could take in 200,000 or more Ukrainian refugees as the government extends its help to more people fleeing the war.
The scheme allowing close relatives of Ukrainian people settled in the UK to come over will be widened to include adult parents, grandparents, children over 18 and siblings.
UK firms will also be able to sponsor a Ukrainian entering the country.
The changes follow criticism that the UK is doing less than EU countries.
About seven million people are thought to have been displaced by Russia's invasion of Ukraine and the United Nations reports that more than 500,000 people have fled the country.
EU members have agreed to let in Ukrainian refugees for up to three years without first having to seek asylum, with more than 280,000 people having entered Poland so far.
In a statement to Parliament, Home Secretary Priti Patel said the UK government had announced a "generous" and "unprecedented" package of measures to help Ukrainians and their family members enter the UK.
She told MPs both the family scheme and the sponsorship pathway would allow Ukrainians to live in the UK for an initial 12 months and would be able to work and access public services.
British nationals and Ukrainian people settled in the UK will be able to bring extended family members to the UK. For example, a sibling of a settled person will be able to come to the UK with their spouse and child.
But, responding to calls to waive all visas for Ukrainians, Ms Patel said Russian troops were "seeking to infiltrate" Ukrainian forces and there were "extremists on the ground" in Ukraine.
Given this and Russian President Vladimir Putin's "willingness to do violence on British soil", Ms Patel said, "we cannot suspend any security or biometric checks on people we welcome to our country".
'Considerable numbers eligible'
Ms Patel announced immigration changes in Parliament on Monday, but Labour said the visa rules were confusing for Ukrainians and asked for clarification.
Speaking on a visit to Poland on Tuesday, Mr Johnson said the rules would be altered again.
"We are extending the family scheme so that very considerable numbers would be eligible. You could be talking about a couple of hundred thousand, maybe more," he said.
"Additionally, we are going to have a humanitarian scheme and then a scheme by which UK companies and citizens can sponsor individual Ukrainians to come to the UK."
Mr Johnson also said the UK would provide £220m in emergency and humanitarian aid for Ukraine.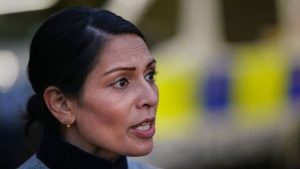 Labour's shadow home secretary Yvette Cooper said she was "concerned about the way Home Office has handled this" but welcomed the latest changes.
She asked Ms Patel if the government would commit to help more Ukrainians and ensure "obstacles do not get in the way".
"Does the sponsoring family member have to be British or have indefinite leave to remain? What about Ukrainians here on work visas, on study visas, who have come maybe as lorry drivers or on visitor visas?
"Surely she is not expecting to turn their families away? When people are fleeing Russian authoritarianism or war I assume she will not be applying a test based on which bureaucratic box UK residents tick."
On Monday, Ms Cooper raised the case of a Ukrainian woman, who was denied entry to the UK in Paris and told to apply for a standard visitor visa.
Fearing an imminent Russian invasion, Valentyna Klymova left her hometown of Kharkiv on 24 February and travelled to France, where she met her daughter.
Over the weekend, her daughter Dr Nataliya Rumyantseva, a Ukrainian citizen with permanent residency in the UK, told the BBC the visa application had been a "confusing" process.
But in Parliament on Tuesday, Ms Patel confirmed the woman's visa had been approved in Paris and she was now able to join her daughter in the UK.
"She is very tired but at the time same delighted we got the visa and that she can go with me," Dr Rumyantseva told the BBC.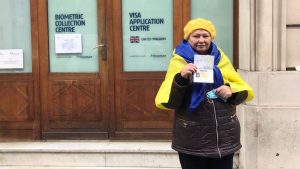 Ukrainian mother Tanya Baranovska is hoping yo enter the UK as well.
She left her home town of Ternopil by car last Thursday with her eight-year-old son Adam and her daughter Anastasiia Lysa, who is 23-years-old.
They wanted to go to stay with Tanya's sister, Nataliya Turner, who lives in Bognor Regis in southern England.
But they told BBC foreign correspondent Bethany Bell they were refused entry to the UK by British officials at Calais in France on Monday. They were told they couldn't enter the UK as Ms Turner is not a British citizen.
On Tuesday, they said, they went to the British consulate in Brussels and have filled in visa applications. They said they are staying at a cheap hotel on the edge Brussels and don't have much money.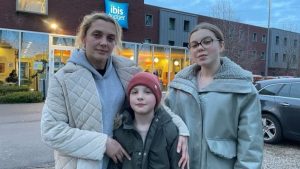 Source:https://www.bbc.com/news/uk-politics-60569292