With spiralling deficits and little prospect of government support, higher education's only long-term hope lies in radical change
Universities are becoming primary victims of the chaos enveloping Britain's public sector. News reported in the Guardian has vice-chancellors pleading for a "new model" of government funding. This follows reports that one-third of England's universities are trading at a deficit. Since almost one-fifth of UK students in higher education now come from abroad – 125,000 of them from China – there is near panic at the Home Office's determination to slash student immigration.
Some universities, including Manchester, Glasgow, Sheffield, UCL and Imperial, rely on Chinese students alone for between a quarter and a third of their income. This means that any Beijing sanction on Britain – such as for mentioning the Uyghurs too often – could turn off this tap at source. Chinese numbers are already falling, by 4% last year, and are compensated only by soaring numbers for Indians, Nigerians, south-east Asians and 135,000 dependents. This last figure the Home Office is eager to cut.
This situation is highly unstable. The number of EU students has plummeted by more than half since Brexit. International students pay between £10,000 and £38,000 a year – the highest fees in the world – and are in effect super-taxing their own, often poor, countries to cross-subsidise UK students. Despite this, the University of Kent already has a £65m deficit and Leicester's de Montfort a £10m one. Vice-chancellors now have lecturers on strike, crumbling buildings and forced redundancies. In February the vice-chancellor of East Anglia, David Richardson, faced a £30m hole in his budget and resigned. Last month his replacement was flanked by a security guard at a staff meeting.
There are other straws in the wind. There has been a dramatic fall in attendance at university lectures and a rise in online learning since Covid. British students already graduate with the highest rate of student debt, in the order of £40,000 to £50,000, and an increasing number wonder if it is worth it. For almost the first time ever, fresher numbers fell last year. There is a fast rising number of applicants for degree apprenticeships – that is students paid for by employers – and ever fewer employers caring about degree grades. That is why, rather than raise fees, some vice-chancellors are calling for more government cash to go direct to them to cover teaching costs. But the government is already spending huge figures covering the half of student loans that are not repaid. It is a near certainty that no further help will come from that source.
The vice-chancellors are right that a new model is needed, but that need is radical. More even than the NHS, British universities cry out for structural reform. The model invented by the Thatcher government, of turning technical colleges into universities, with Tony Blair offering a place to 50% of young adults, has ground to a halt. Student numbers have stalled at near 45%. The age-old tradition of teaching by scholar/tutors has proved inefficient for mass higher education. So, too, has the custom of low numbers of contact hours, coupled with the custom, unique to Britain, of residential high education being the norm. The cost of these archaic practices in time and resources has been and is stupefying.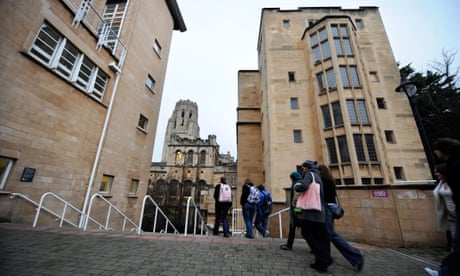 These shifts have been aggravated by Covid, the internet and now AI, and by changes in the skill needs of the economy. The near obliteration of polytechnic and other vocational education has been a disaster. It has led to a chronic shortage of all forms of medical staff, of lab technicians, care workers, primary teachers and administrators. Further education should never have been downgraded. Student residences should not be towering over city centres, as if students were more in need of social housing than the homeless.
Radical ideas get nowhere. The tycoon James Dyson has started his own engineering university. The Cambridge academic Stefan Collini cries in the wilderness at the fate of pure scholarship, left awash in a world of target-driven, exam-led, league-tabled mass teaching. The former universities minister Jo Johnson pleads for an end to the three-years-fits-all residential university model, to no effect. Demands for shorter courses, part-time and lifelong learning, restored further education or an expanded Open University fall on deaf ears. So too does the issue of whether vocational courses are best taught in a university at all, rather than in the workplace.
What is clear is that it cannot be right to browbeat half of all 19-year-olds into paying £50,000 for three years' usually mediocre teaching, an "education" supposedly to last a lifetime. The question is not whether it should be replaced but how to bring replacement about. Delivering an answer would best start with the spark that stimulated the burst of university reform that occurred in the 1960s, the Robbins royal commission.
Such commissions were considered too ponderous and were succeeded by endless public inquiries, which proved no less ponderous. At least Robbins brought about change. It will take another Robbins to overcome the conservatism of the modern university, which makes the pre-Reformation Church of Rome seem liberal.
Simon Jenkins is a Guardian columnist
…as you're joining us today from India, we have a small favour to ask.
The Guardian has spent the past 13 years tirelessly investigating the shortcomings of the British Conservative government – austerity, Brexit, partygate, cronyism, the Liz Truss debacle and the individual failings of ministers who behave as if the rules don't apply to them.
Our work has resulted in resignations, apologies and policy corrections. And with an election just round the corner, we won't stop now. It's crucial that we can all make informed decisions about who is best to lead the UK. Will you invest in the Guardian this year?
Unlike many others, the Guardian has no shareholders and no billionaire owner. Just the determination and passion to deliver high-impact global reporting, always free from commercial or political influence. Reporting like this is vital for democracy, for fairness and to demand better from the powerful.
And we provide all this for free, for everyone to read. We do this because we believe in information equality. Greater numbers of people can keep track of the events shaping our world, understand their impact on people and communities, and become inspired to take meaningful action. Millions can benefit from open access to quality, truthful news, regardless of their ability to pay for it.
Whether you give a little or a lot, your funding will power our reporting for the years to come. If you can, please support us on a monthly basis from just $2. It takes less than a minute to set up, and you can rest assured that you're making a big impact every single month in sup.
Source: https://www.theguardian.com/commentisfree/2023/jun/02/british-universities-foreign-students-deficits-government-higher-education