Author: Lisa Holland
The UK is talking to the government in Ghana about ways it can help alleviate the UK's immigration problems, according to a tweet issued by the Ghanaian Foreign Ministry.
Human rights campaigners have raised concern the now-deleted tweet could mean there are discussions for some asylum seekers to be housed and processed in Ghana.
The tweet was posted on 30 August and shows a picture of a virtual meeting between the UK's Africa Minister, James Duddridge, and Ghanian Foreign Minister Shirley Ayorkor Botchwey.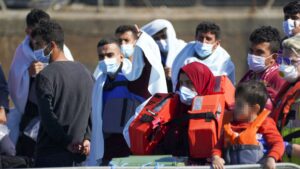 It said: "During the meeting, the Hon. Minister and the RT. Hon. discussed issues of mutual interest between Ghana and the UK, particularly in areas of security and migration, notably in matters relating to third-country asylum partnerships as the UK makes plans to reform its asylum system and tackle illegal migration."
The tweet also thanked the UK government for the donation of 249,000 doses of the AstraZeneca vaccine.
"It's conceivable the UK government has been talking to the Ghanaian government about this asylum off-shoring plan that the government says it wants to do.
Source: https://news.sky.com/story/uk-talking-to-ghanaian-government-about-how-it-can-help-alleviate-immigration-problems-now-deleted-tweet-suggests-12402463