Three of four occupations targeted were added to the province's In-Demand Occupations List April 4
April 17, 2019, By Stephen Smith And Noah Turner
The Saskatchewan Immigrant Nominee Program broke new ground April 17 with its first Expression of Interest draw for immigration candidates with work experience in specific in-demand occupations. 
Three of the four occupations targeted were new additions to Saskatchewan's In-demand Occupations List, which the Saskatchewan Immigrant Nominee Program (SINP) updated on April 4.
Work experience in an occupation on the list is a requirement for both the SINP's Express Entry and Occupation In-Demand sub-categories.
A job offer, however, is not required for either sub-category.
The SINP is part of Canada's Provincial Nominee Program, which allows participating provinces and territories to nominate a set number of economic immigration candidates for Canadian permanent residence each year.
4 occupations targeted in April 17 EOI draw
A total of 324 invitations were issued to Express Entry and Occupation In-Demand candidates with eligible work experience in one of the following occupations. NOC in the table below refers to the profession's code under Canada's National Occupational Classification.

* denotes occupations added April 4.
The SINP had indicated earlier this week that it may make "occupation-specific selections" from its Expression of Interest (EOI) system, which manages the pool of candidates for its Express Entry and Occupation In-Demand sub-categories.
Candidates in the federal Express Entry pool who obtain a provincial nomination through the SINP's Express Entry sub-category are awarded an additional 600 points toward their ranking score, effectively guaranteeing an invitation to apply for Canadian permanent residence.
In order to be eligible for consideration by Saskatchewan, Express Entry candidates must register a separate Expression of Interest with the SINP.
Minimum score drops
Eligible candidates in the SINP's EOI system are awarded a score out of 100 based on factors such as education, skilled work experience, age and proficiency in English or French. A candidate's connections to Saskatchewan are also awarded points.
Invitations to apply for a nomination for Canadian permanent residence from the SINP are normally issued to the highest-ranked candidates, with the April 17 occupation-specific draw being an exception to this rule.
The cut-off score in the April 17 draw was 60 for both the Express Entry and Occupation In-Demand sub-categories.
This was the lowest score yet drawn for Occupation In-Demand candidates since the EOI system's introduction in July 2018.
Two prior draws through the Express Entry sub-category saw the cut-off score reach 60.
In-Demand Occupations List revised
The SINP later announced that it had revised its In-Demand Occupations List to remove the four occupations targeted in the April 17 draw.
Saskatchewan said the In-Demand Occupations List is typically updated yearly but noted it can change "at any time based on the number of invitations issued and labor market demand in Saskatchewan."
It added that candidates who received an invitation to apply prior to the removal of their occupation from the list can still apply for a provincial nomination for Canadian permanent residence.
The newly revised list now contains 20 occupations, including Computer Programmers and Interactive Media Developers.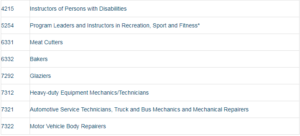 "These developments are good reminders of why it's important to keep up-to-date on changes to provincial nominee programs," said David Cohen, senior partner with the Campbell Cohen Canadian immigration law firm in Montreal.
"Three of the four occupations targeted today were only added to the list of in-demand occupations April 4 and now they've been removed, all in a period of 13 days."