Author: FRÉA LOCKLEY
Following Amber Rudd's resignation on 29 April, Theresa May has appointed Sajid Javid as the new home secretary. Rudd"repeatedly" struggled to account for her role in the unjust treatment of Windrush generation migrants. But despite defence of Javid as "the first BAME politician to
hold the role", his track record is far from encouraging.
Neo-fascist
On 29 March, pro-Corbyn grassroots group Momentum called for an apology and threatened Javid with legal action after he called it "neo-fascist". But because he made the remark in the House of Commons chamber, he was protected against a lawsuit by parliamentary privilege. He said:
Just yesterday, there were reports of a meeting of the hard left neo-fascist Momentum group, which was trying to remove Wandsworth councillors.
And since Javid's appointment, many have taken to Twitter to point out his failure to apologise: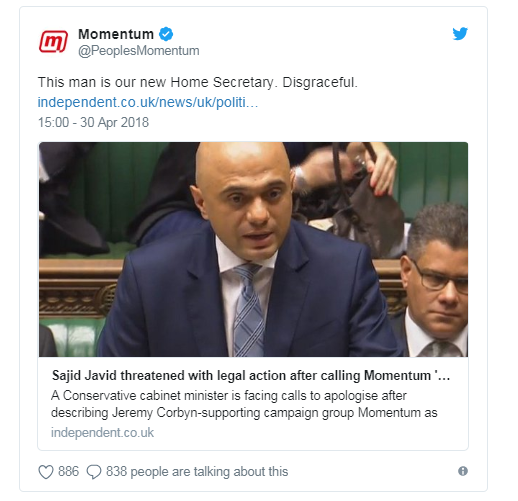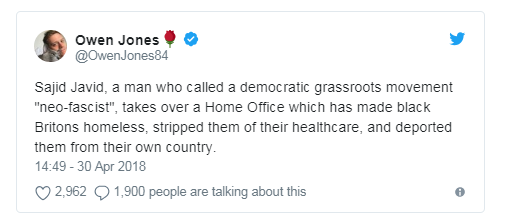 His appointment is worrying many. Not least, because Javid will now be responsible for "banning neo-fascist groups under the Terrorism Act 2000":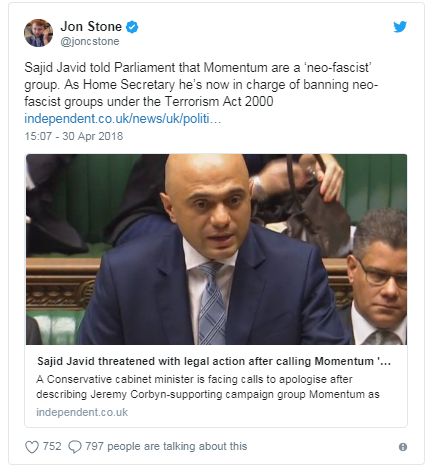 But concerns about Javid don't stop here.
Israel and Yemen
Javid's appointment is, perhaps, meant to calm the waters of a troubled Conservative Party. But many are concerned about his overtly pro-Israel position. This is problematic (to say the least) given the ongoing violence towards Palestinians. In 2017, there were calls to issue an apology for the Balfour Declaration, issued by Britain's foreign secretary in 1917. One leading Pro-Palestine group stated that this:
resulted in the mass displacement of the Palestinian people and a century of suffering.
But Javid stated his position on this issue clearly:
Someone said we should apologise for the Declaration, to say it was an error of judgment. Of course that's not going to happen…
As long as I'm in government, as long as I'm in politics, I will do everything in my power to fight back against those who seek to undermine Israel.
And Javid's support for Israel goes further: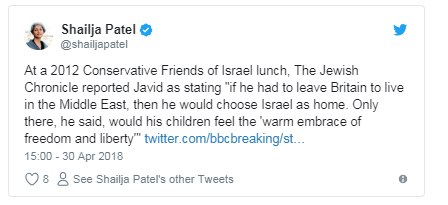 There are also concerns about Javid's role in other areas of Middle Eastern politics. The Guardian reported that, during a judicial review into UK arms sales to Saudi Arabia, Javid was criticised for his refusal to:
halt weapons exports to Saudi Arabia last year despite being warned by a senior civil servant that the sales should be suspended over human rights concerns.
There is growing evidence that UK weapons have killed civilians in Yemen.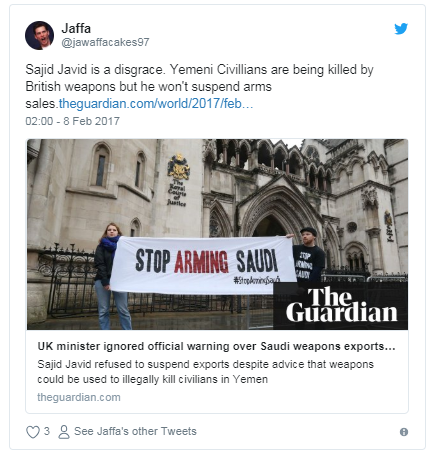 More "Thatcherite than Margaret Thatcher"
Tim Montgomerie, the former editor of ConservativeHome, studied at Exeter University with Javid in the 1980s. He said:
He was more Thatcherite than Margaret Thatcher and the Black Wednesday experience vindicated his judgment.
Javid was also a former banker for Deutsche Bank, where he allegedly earned over £3m a year. And there is speculation over his potential involvement in the 2008 financial crisis: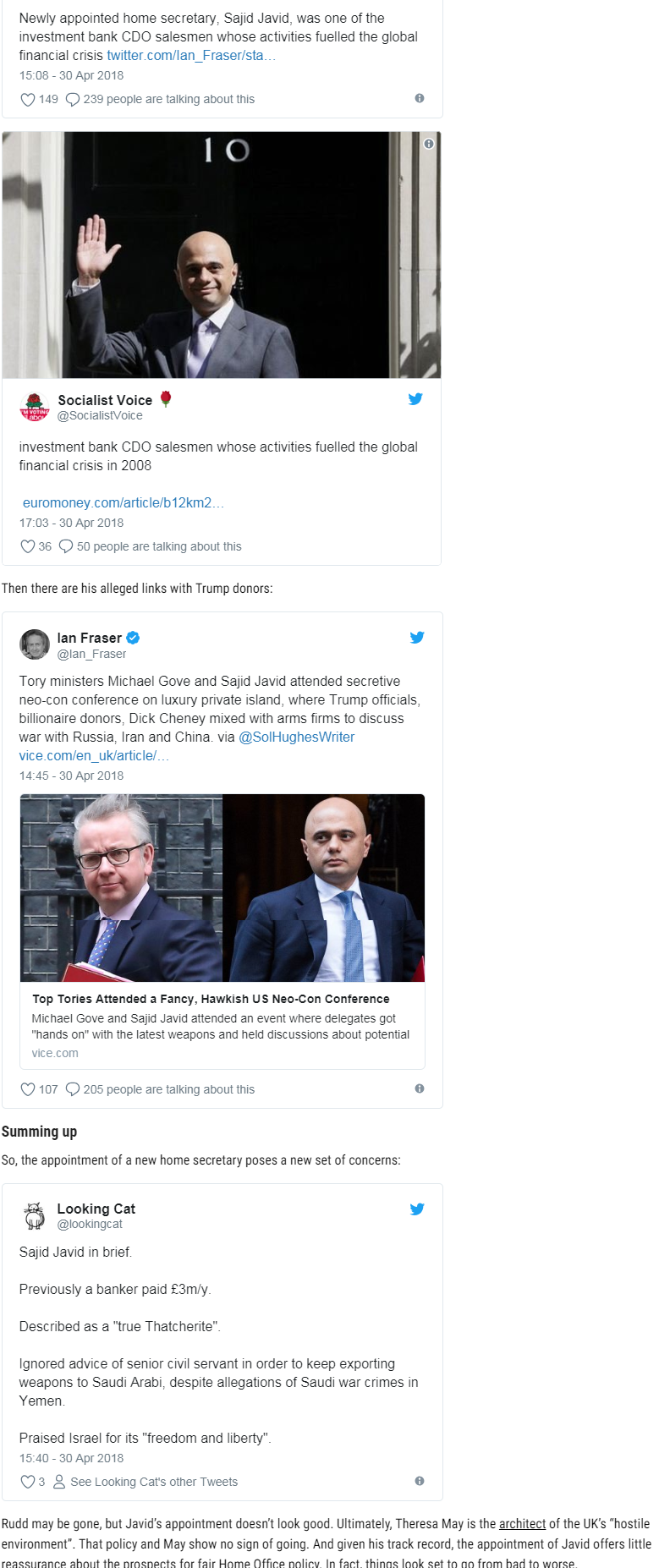 Source: https://www.thecanary.co/uk/2018/04/30/rudd-may-be-gone-but-sajid-javid-could-be-even-worse/