By Stephen Smith, Eman Katem, Lauralee Beaurieux, And Noah Turner
Canada has invited 3,350 Express Entry candidates to apply for Canadian permanent residence in a new draw held April 17. 
The cut-off score in today's draw was 451.
The Express Entry system manages the pool of candidates for three of Canada's main federal economic immigration programs — Federal Skilled Worker Class, Federal Skilled Trades Class and Canadian Experience Class.
Eligible candidates for these categories are entered into the Express Entry pool and assigned a ranking score based on factors such as age, education, work experience and proficiency in English or French.
The highest-ranked candidates are invited to apply for Canadian permanent residence through regular draws from the pool.
Canada has now issued a total of 27,900 Invitations to Apply (ITAs) to Express Entry candidates in 2019.
In 2018 — a year that saw Canada set the current Express Entry ITA record of 89,800 — a total of 21,000 ITAs had been issued by April 17.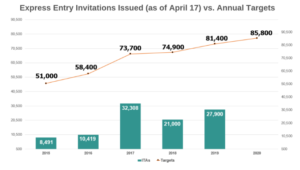 Immigration, Refugees and Citizenship Canada (IRCC) has higher admissions targets for its three Federal High Skilled classes in 2019 and 2020, so it is possible that the 2019 ITA total will surpass 2018's record.
IRCC used its tie-break rule in the April 17, with the time and date set at 15:01:49 UTC on April 2, 2019. This means that all candidates with a CRS score above 451, as well as those candidates with scores of 451 who entered their profile in the Express Entry pool before this date and time, received an ITA in this invitation round.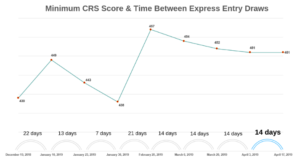 Express Entry candidates who want to improve their ranking in the pool may have a number of options for increasing their score, with the most valuable being a provincial nomination.
A provincial nomination results in an additional 600 Comprehensive Ranking System points, effectively guaranteeing an invitation to apply for Canadian permanent residence in a subsequent Express Entry Draw.
Express Entry-linked provincial nominee streams in British Columbia, Manitoba and Saskatchewan are among those that have been active recently.
The following are hypothetical examples of candidates who would have obtained an ITA in the April 17 draw:
Farrah is 30 and has a bachelor's degree. She has been working for three years as an administrative legal assistant. Farrah has never worked or studied in Canada. She took the TEF Canada and obtained 400 in speaking and writing, 280 in reading as well as 340 in listening. Her CRS score of 451 would have been sufficient to obtain an ITA in the April 17 draw.
Josh is 33 and holds a bachelor's degree as well as a post-secondary certificate. He has been working for three years as a business consultant. He has never studied or worked in Canada. Josh took the IELTS and scored 8.5 in listening and 8 in all other categories.  His CRS score of 452 would have been sufficient to obtain an ITA in the latest Express Entry Draw.
Ravi and Lea are married and are 33 and 37, respectively. Ravi holds a two bachelor's degree and Lea has a two-year post-secondary credential. They both wrote the IELTS and scored an 8 in each category. Neither Ravi or Lea have worked or studied in Canada. Ravi has been working for five years as a programmer and Lea has been working for six years in animation. Ravi entered the Express Entry pool as the principal applicant and his CRS score of 451 would have been sufficient to obtain an ITA in the April 17 draw.
"It would have been nice to see the draw size go up and the cut-off score come down, but we still have a long way to go this year," said David Cohen, senior partner with the Campbell, Cohen Canadian immigration law firm in Montreal.
"Given Canada's higher admissions targets for this year and 2020, there's still the possibility that IRCC will hold bigger or even more frequent draws in the months to come and that could have the effect of lowering the minimum score."