Author- Will Ing
CITB says immigrants make up half London's construction workforce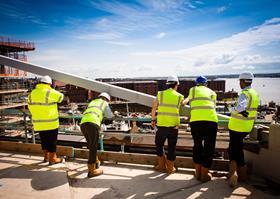 The government should reform its proposed skills-based immigration system to prevent labour shortages across building sites, according to the Construction Industry Training Board (CITB).
Immigrants make up more than half of London's construction workforce – at 54% – and constitute 14% of construction workers across the UK, a new report from the training body has said.
The report finds 70% of employers of non UK-born workers do not consider the "low skilled visa", as set out in the government's white paper, suitable for their business – with bosses complaining the system will make it harder to recruit staff.
"Restrictions on non UK-born workers under the UK government's new skills-based immigration system could, in the short-term, lead to skills shortages which may impact on construction project times, costs and the economy," said Steve Radley, strategy and policy director for the CITB.
The body made three recommendations for changes to the immigration system which would help construction employers and workers.
Firstly, it says "low skilled visas" should be for 24 months rather than 12 months. This would allow workers to remain longer after being trained up, helping to ease skills shortaages and improve continuity of labour.
Secondly, the CITB says government should introduce a mechanism for "low skilled" workers to upgrade their visa by while remaining in the UK if they receive training and meet the threshold for a "high skilled" visa.
Finally, The CITB calls for a new "Umbrella Sponsorship," so that firms can sponsor workers to come to the UK through a "clearing house" model, without directly employing them. Currently 49% of non UK-born construction workers are self-employed.
Brian Berry, chief executive of the Federation of Master Builders, said he agreed with the recommendations.
"The CITB report is absolutely right to highlight the barriers facing construction employers needing to employ non-UK workers. The government needs to look again at its post-Brexit immigration system to make it easier and simpler for small building companies needing to recruit non-UK labour," he said.
"There is currently a serious skills crisis in the building industry which explains why 9% of the construction workforce is made up of EU workers. Given it takes many years to train a high-quality tradesperson there will, in the short term at least, continue be an urgent need to recruit non-UK labour."
Source-https://www.building.co.uk/news/industry-calls-for-post-brexit-immigration-regime-overhaul/5101964.article