Author :Trevor Bach
Jeff Sieting, the former village president, in 2017. Photo by Jan-Michael Stump/Traverse City Record-Eagle via AP
The controversy that consumed the village of Kalkaska, Michigan, began last summer, when it emerged that Jeff Sieting, the village president, had posted anti-Muslim fusillades on social media. One post, titled "Kill Them All," compared Islam to a "flesh-eating bacteria" and suggested nuclear annihilation of Muslim-majority cities; another told "wannabe liberals" concerned about refugees to adopt a "pet muslim." In response, a group of distraught residents organized a rally they called "No Hate in Kalkaska," and asked supporters to gather around the town's iconic trout fountain.
On the evening of June 23 some 100 people assembled—a huge turnout, given the town's population of about 2,000—holding signs and wearing colorful "Take On Hate" stickers. "We have a president, Jeffery, that's been putting hateful messages on Facebook and stuff like that," one woman, wearing a peace sign necklace and straw sun hat, told an area resident who was filming the event. "We want to make sure that people know that he's not the voice of Kalkaska." The camera then turned to the woman's friend, who began speaking but was drowned out by revving motorcycles: In response to the "No Hate" rally, Sieting supporters had organized a simultaneous "open-carry" demonstration across the street at the Sieting Hotel (which Sieting owns), drawing a crowd that included dozens of out-of-town bikers.
"Those people want to shut down free speech," one woman in a Trump shirt said in the video, gesturing across the street. "Most of 'em are probably from Traverse City—they're those little snowflakes you read about that are in college campuses, hiding out with puppy dogs and coloring crayons because somebody said something they don't like." At one point a man standing in a crowd in front of the hotel casually yelled, "Death to Islam! Death to Islam!"
The dueling protests overwhelmed tiny Kalkaska. There was a heavy police presence; shouting matches spilled into the street. The armed left-wing group Redneck Revolt had showed up to counterbalance the open-carry demonstrators. Several men stood atop the hotel's roof "like snipers," Ben Zork, a resident who attended the protest, told me recently. "I remember thinking, 'This can't be real. People in this town can't actually be OK with this.'"
Kalkaska is an old mining town in Michigan's rural north, deep Trump country—the Republican nominee won nearly 70 percent of the vote in surrounding Kalkaska County in 2016. Last year, the battle emanating from Sieting's Facebook posts became as a flashpoint in the country's culture wars, a microcosm of the debates happening on a national level; when Zork and others organized a recall election to oust Sieting (who had vehemently supported Donald Trump), the vote doubled as a litmus test of the political limits of Trump-era extremist rhetoric. On May 8, Sieting lost by a two-to-one margin to challenger Harley Wales, a hospital caregiver who is politically independent and openly gay. "Isn't that amazing?" Wales told me recently.
Sieting, a lanky 56-year-old, is a fourth-generation Kalkaskan who was elected village president in 2010 and runs a garage door repair business. His Facebook bio describes him as "a White Christian Conservative American that strongly believes in the Constitution as it was written"; long before the recent controversies began he was known around town as a good-hearted, if coarse, presence in Kalkaska. "Everything that he said that was really offensive and horrifying and unkind and rude was all shared on social media," Zork told me. "But in person he is a very nice guy… if he was on the fire department he'd be the first one bursting through the door to save your family."
When I spoke to him, Sieting came across as personable and talkative. He spoke proudly of his efforts at generosity, and volunteered a story about assisting a lesbian couple he discovered camping by a nearby river after their car had broken down. "It's the humanity in all of us," he said. "If I'd of went out there and it would have been a Muslim I would have done the same thing."
When Sieting was in the military, he knew several Saudi pilots when he was stationed at Luke Air Force Base in Arizona, he told me. "I found them to be extremely kind, extremely generous….I couldn't have found a cross word to say about any of them." But that was decades ago; there are no Muslims in Kalkaska, Sieting said. "Ninety percent of what I know [about Muslims] comes from media," he told me. "You don't have a lot to go off of personally."
Yet Sieting could also rankle the community. He was notorious for tooling around town in his "bully truck," a 1977 Chevy outfitted with 40-inch tires and a "Neighborhood Bully" decal, and for a confrontational management style that alienated councilmembers. He was facing a controversy for alleged conflicts of interest involving village projects, and earlier this year sought to discipline a village treasurer after she questioned a cleaning contract given to Sieting's ex-wife. Sieting maintains he was acting in the best interests of the village. When he was elected president in 2010, he told me, there was a "wall" between residents and the local government. "My pledge was that I was going to rip down that wall and take this government back."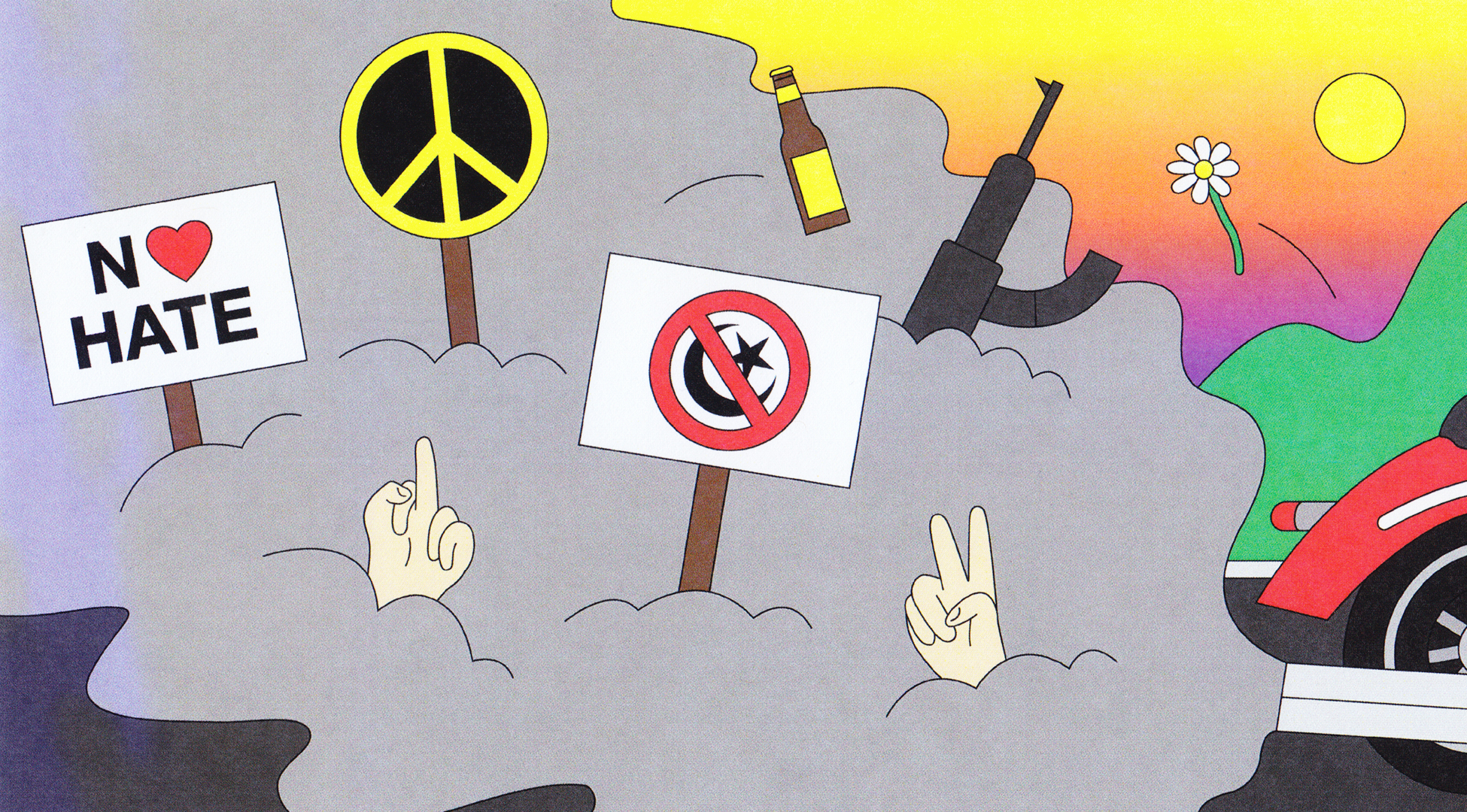 Illustration by Xavier Lalanne-Tauzia
Several years ago Sieting bought the Sieting Hotel, which was built by a relative in 1912 and had been vacant for decades, with plans to refurbish the historic building. Before the November 2016 election, he hung a large banner—"For New Birth of Freedom Please Vote TRUMP"—from the building's balcony. The banner stayed up months after Trump's victory, prompting complaints that it violated a local ordinance stipulating political signs have to come down within ten days of an election. Faced with the complaint, Sieting changed "Vote" to "Pray 4," perpetuating the controversy. It was after that that his critics discovered his social media posts, igniting a media firestorm.
Rather than apologize for the noxious rhetoric, which, along with Muslims, targeted Black Lives Matter activists, transgender people, and liberals, Sieting doubled down. "I owe nobody an apology for exercising my First Amendment rights," he said at a village meeting last summer. In multiple interviews over the ensuing months he maintained this stance, even as the controversy spiraled and earned national media attention. Militia groups showed up at village council meetings. A white supremacist group, Vanguard America, posted anti-Muslim fliers on the Sieting Hotel, prompting some to worry that their tiny northern Michigan town was becoming, as Wales put it, a "mecca of hate."
"It's bad enough we have three K's in Kalkaska," a resident named Crystal Spencer told the Detroit News.
Sieting received multiple death threats, he told me, as well as hundreds of messages of support from all over the world. He was also visited at his home by FBI agents, he told me, who asked if he was planning to commit violence against Muslims.
As the saga continued, business owners became concerned about economic repercussions—there was talk of boycotts against local businesses as a form of protest—and the normally quiet town grew increasingly divided. While many residents found the comments, and Kalkaska's new notoriety, shameful, others stood by Sieting, often framing their support as a defense of his First Amendment rights. In a small town where families have deep roots, neighbors and longtime friends were suddenly drawn into heated, bitter arguments. In some cases, they just stopped speaking.
"It has consumed this town," Zabrina Watt, a longtime resident, told me. "I mean the fighting among everyone —it was sad. And the way it split everybody. Not just people in the village— I mean, I'm talking the whole county!"
Following the protests last June, Zork met with several others who were deeply disturbed by Sieting's comments and the cloud of notoriety that had followed them. The group, led by Elizabeth Dunham, a 27-year-old who was motivated to act against the Islamophobia in part because she had spent time in the Middle East, formed a nonprofit called Kalkaska For Peace and began exploring a recall election. A regular election was already scheduled for this November, but it was important to the group to make a statement.
"We all kind of agreed that if were successful—and obviously this was a risk—but if we were successful it would be a really great ending to the story," Zork said. "That Kalkaska made international news because of the statements made by its president that were horrifying, objectively unacceptable by anybody… but Kalkaska's citizens didn't just wait it out. We acted to rectify a perceivable problem in our community and we acted swiftly."
---
Harley Wales came forward as a challenger. A stout 45-year-old with a shaved head and a soul patch, Wales grew up in nearby Kingsley and has lived in Kalkaska for 12 years; he was already well connected and had been considering entering area politics for several years. "I said, 'Well, if you get a recall I'll run,'" he told me recently. "In my head immediately I was like, 'Wow, I am the opposite of Jeff. If I could run against him and win, that would be just as big as all the crap he was saying, and maybe it would find its way out into media sources and mend this craphole that was created."
The recall campaign, which officially began in late February, took on much of the same ugliness that had inspired it. On social media Sieting supporters hurled personal attacks at Dunham and labelled opponents "libtards," "snowflakes," and "cowards." Zork, who is married with a young daughter, told me Sieting supporters would peel out in front of his home late at night in apparent intimidation efforts. "Anyone who spoke out against Jeff publicly was fair game," he said. "It was bloodsport." (In an apparent nod to Trump's childish nicknames for opponents, in videos Sieting also began referring to Zork as "Ben Dork.")
For Trump, using constant insults and bullying as campaign tactics seems to have worked. But when Sieting used them in Kalkaska, they backfired.
Kalkaska in 2012. AP Photo/Traverse City Record-Eagle, Jan-Michael Stump.
Watt, 40, grew up on a farm outside town. She supports Trump and often votes for candidates based on the NRA's endorsement. But after initially wavering on the recall election, she was disillusioned by Sieting's insulting tone, like when she heard him characterize non-supporters as cowards or saw him quoted as calling someone an "effing liar" in the local paper. "That represents me," she said. "So does that mean that everybody in my town calls people effing liars to everybody? No, that's not how we treat people."
Even as Kalkaska faced real challenges—like a $500,000 budget deficit and a potential payout of millions stemming from healthcare-related lawsuits filed by former village employees—the election largely came down to a character referendum, with Wales seeking to present a positive image to Sieting's bad-boy persona. And where Wales steered clear of the country's larger culture wars, Sieting was unabashed in his attempts to tie the small-town, ostensibly nonpartisan race to national right-wing talking points, presenting his candidacy as a defense of conservative values against encroaching liberalism. "It was all based on, 'Kalkaska's a Republican town, keep the liberal snowflakes out, socialism's going to be here,'" Zork told me. "And we didn't bite. This town did not bite on that."
"I do think think like the town took a breath physically."
–Ben Zork
Sieting defended the tone of his campaign. "It's never been my goal to appease anybody," he said. "I tell the truth—we don't get to pick the truth." He also said has no regrets over his actions the past year. He stands by his Facebook posts, but claims they were misconstrued: The "kill them all" post, for example, was unfairly divorced from its historical context, he said, arguing it was part of a broader argument about civilizational war.
He does not support bombing major Muslim-majority cities, he said. "That's kind of like saying bomb all the Christian cities. That would be ludicrous." But he does consider Islam "more militant than it is religious," he said, and believes some 25 percent of the world's 1.8 billion Muslims are radicalized. He largely blames the media for his electoral defeat, for creating a narrative that cast him as a bigot and a racist following the social media revelations: "In this political climate that stuff's like gasoline on a fire." Citing a threat from encroaching communism in particular, he defended his strategy of evoking ideological battles in the village president contest. "That little race in Kalkaska was a global issue," he told me. "This dialogue needs to take place."
The night of the election, Wales supporters gathered at a house in town. They erupted in celebration—and surprise—when someone called an election official and learned the result. The following day Wales was approached and congratulated by residents who had voted for him and some who hadn't, he said, who still wished him well. The next morning the town seemed to collectively exhale. "It was like a weight," Zork said. "I do think think like the town took a breath physically."
That same day Wales was sworn in. In the evening he held his first council meeting, then in the following days quickly became caught up in a flurry of meetings and event planning, including for a series of block parties aimed at bringing the town back together. "It really needs it," he said.
Sieting, following the result, has been posting on Facebook under a modified name. Some posts were Bible passages referencing Sodom and Gomorrah; others were focused on the threat from radical Islam. One post was a link to an article from the site myrightamerica.com warning about the danger posed by Abdul El-Sayed, a Muslim running for Michigan governor as a Democrat. "The threat is real not imagined," Sieting wrote above the article. "But hey…Keep living with your head in your ass if you choose."
Source: https://www.vice.com/en_uk/article/mbk5qx/kalkaska-michigan-islamophobic-mayor-defeated