The Tories are redefining low-paid work, says Labour's shadow Home Office minister Richard Rosser
DETAINED migrants have lost out on almost a quarter of a million pounds in wages over the first month of this year already, new research by the Morning Star can reveal.
The Home Office pays asylum-seekers and other migrants as little as £1 an hour for work they do inside detention centres.
They can be held indefinitely while the department considers their immigration cases.
Although they are not serving criminal sentences, detainees are exempt from the minimum wage.
Official figures from six detention centres show that migrants worked 36,532 hours in January and were paid just £38,041.
If they had been paid the national minimum wage of £7.83 an hour for workers aged 25 and over, they would have received an extra £248,004 in pay.
The latest figures — obtained as part of our new campaign for detainees to earn the minimum wage — means that detainees have now lost out on at least £28 million since 2009.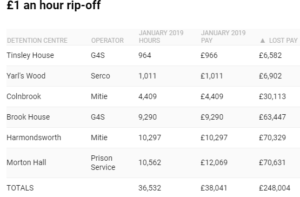 Reacting to our investigation, Labour's shadow Home Office minister Lord Richard Rosser told the Morning Star: "The government is certainly redefining what 'low-paid work' really means."
Mr Rosser, a former trade union organiser, said: "The savings made from paying only a fraction of the minimum wage to people not serving criminal sentences are clearly substantial.
"The approach being taken by the current Home Secretary is fully in line with the hostile environment policy pursued by his predecessors, despite attempts to suggest otherwise."
The controversial £1-an-hour policy is currently being challenged at the High Court by law firm Duncan Lewis, which is representing detainee workers.
Philip Armitage, a lawyer at the firm, said: "It continues to be a national disgrace that the Home Office pays immigration detainees £1 per hour to clean and maintain the detention centres where their liberty is being denied.
"These latest figures show the scale of the problem and we continue to challenge this policy on behalf of our clients. A rethink in this exploitative policy is well overdue."
Under detention centre rules, detainees can work up to 30 hours a week on jobs that include cleaning toilets and removing body fat from shower drains.
Many of the detention centres are run by private outsourcing and security companies such as G4S, Serco and Mitie.
In response to the Morning Star's freedom of information request, the Home Office said that data for its Dungavel detention centre in Scotland was not available.
That site is run by Donald Trump donor The Geo Group, a private prison giant that has faced law suits in the United States over low pay.
A Home Office spokesperson told the Morning Star: "The longstanding practice of offering paid activities to people in immigration detention centres helps to keep them occupied while their removal is being arranged.
"This practice is not a substitute for the work of trained staff due to the voluntary nature of the roles offered to detainees.
"Whether or not they wish to participate is entirely up to the detainees themselves, but the numbers of detainees volunteering for paid activities across the detention estate is evidence that the jobs are popular."