Author: bbc.co.uk
More than 40 countries have banned UK arrivals because of concerns about the spread of a new variant of coronavirus.
Flights from the UK are being suspended to countries across the world including Spain, India and Hong Kong.
On Sunday evening, France shut its border with the UK for 48 hours, meaning no lorries or ferries will be able to leave from the port of Dover.
The French government said it will establish a protocol "to ensure movement from the UK can resume".
European Union member states are currently meeting in Brussels to discuss a co-ordinated response, with officials suggesting a requirement for tests could be imposed on all people arriving from the UK.
Meanwhile, Boris Johnson is due to chair a meeting of the government's emergency committee and will hold a press conference at Downing Street later.
Other countries to impose a ban on UK arrivals include Belgium, Canada, Germany, Ireland, Italy, Portugal, Romania, Russia, and Switzerland. Some of the bans are already in force while others are to begin on Tuesday.
Eurotunnel services to France are also suspended and Eurostar trains to Belgium are not operating.
But Eurotunnel spokesman John Keefe said he hoped travel from the UK could begin on Wednesday or Thursday.
Coronavirus cases in the UK rose by 35,928 on Sunday – nearly double the number recorded seven days previously.
And it was announced that a further 326 people died within 28 days of testing positive, bringing the nation's total to 67,401.
Health Secretary Matt Hancock warned that the new variant of the virus – which may be up to 70% more transmissible – was "getting out of control".
The new variant has spread quickly in London and south-east England, but health officials say there is no evidence that it is more deadly or would react differently to vaccines.
Labour leader Sir Keir Starmer described the situation as a "real emergency", saying: "The news over the last 24 hours has been deeply disturbing. The number of coronavirus cases has nearly doubled in the last week.
"We can have no more over-promising and false hope, confused messages and slow decision-making. We need strong, clear and decisive leadership."
Scotland's First Minister Nicola Sturgeon said the government had plans for coping with port disruption in the event of a no-deal Brexit and should now activate the measures.
Analysis by Simon Jones, BBC correspondent, at the port of Dover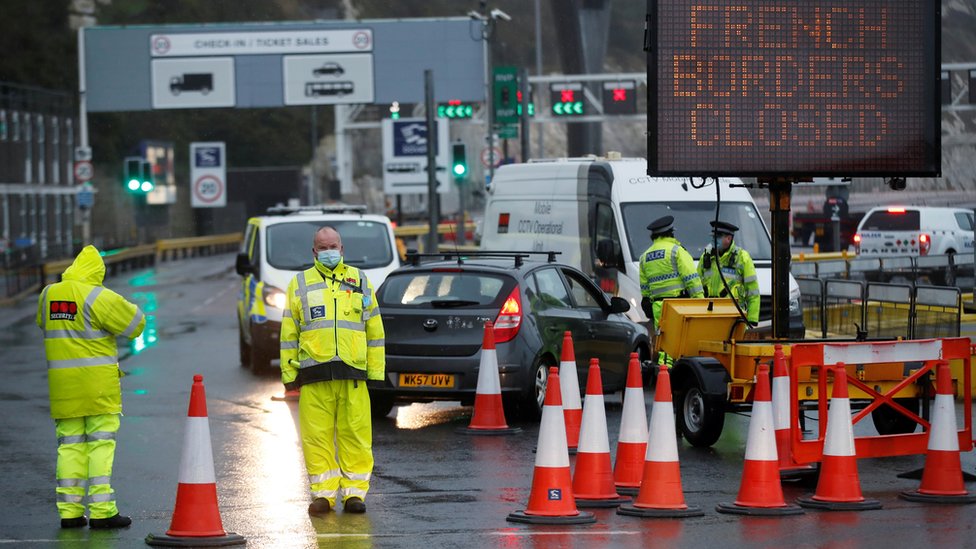 As the day has gone it, it seems the frustration of some hauliers has grown.
Many have been sounding their horns – after being refused entry to the Port of Dover. A few have been brandishing paperwork at the officials keeping them out.
The reality is, whatever documentation they may have, they aren't being allowed to leave the UK today.
The only journey they're being told to make is to the back of the ever-growing queue that makes up Operation Stack.
That will mean spending tonight, and all day tomorrow in their cabs – when all they want to do is get back home.
It's a depressing situation in the run-up to Christmas. And if France does insist that all drivers need to be tested before being allowed to cross the Channel, it's likely some won't make it back before the big day.
Kent Police has put Operation Stack into force on the M20 towards Dover to queue lorries caught up in the disruption.
The coast-bound carriageway of the motorway has been shut between Junctions 8 and 11 as a "contingency measure", the force said.
Additionally, Manston Airport in Kent is being readied to take up to 4,000 lorries to ease congestion in the county.
On Monday morning, Mr Shapps said the situation in Kent was "not too disrupted" saying "it's mostly European and French hauliers getting caught up in this" and that about 20% of the overall 32,000 units of freight shipped today were affected by the restrictions.
Mr Shapps told BBC Breakfast that Covid-19 vaccine supplies – which come from Belgium – would not be affected by travel bans, as they come to the UK via unaccompanied containers.
Unaccompanied freight, such as containers or lorry trailers on their own, can still be transported.
Iain Wright, chief executive of the Food and Drink Federation, told BBC Breakfast there was "no need" for shoppers to panic-buy as a result of the border restrictions.
But he added there was "concern" around food supplies in the longer term, particularly after Christmas.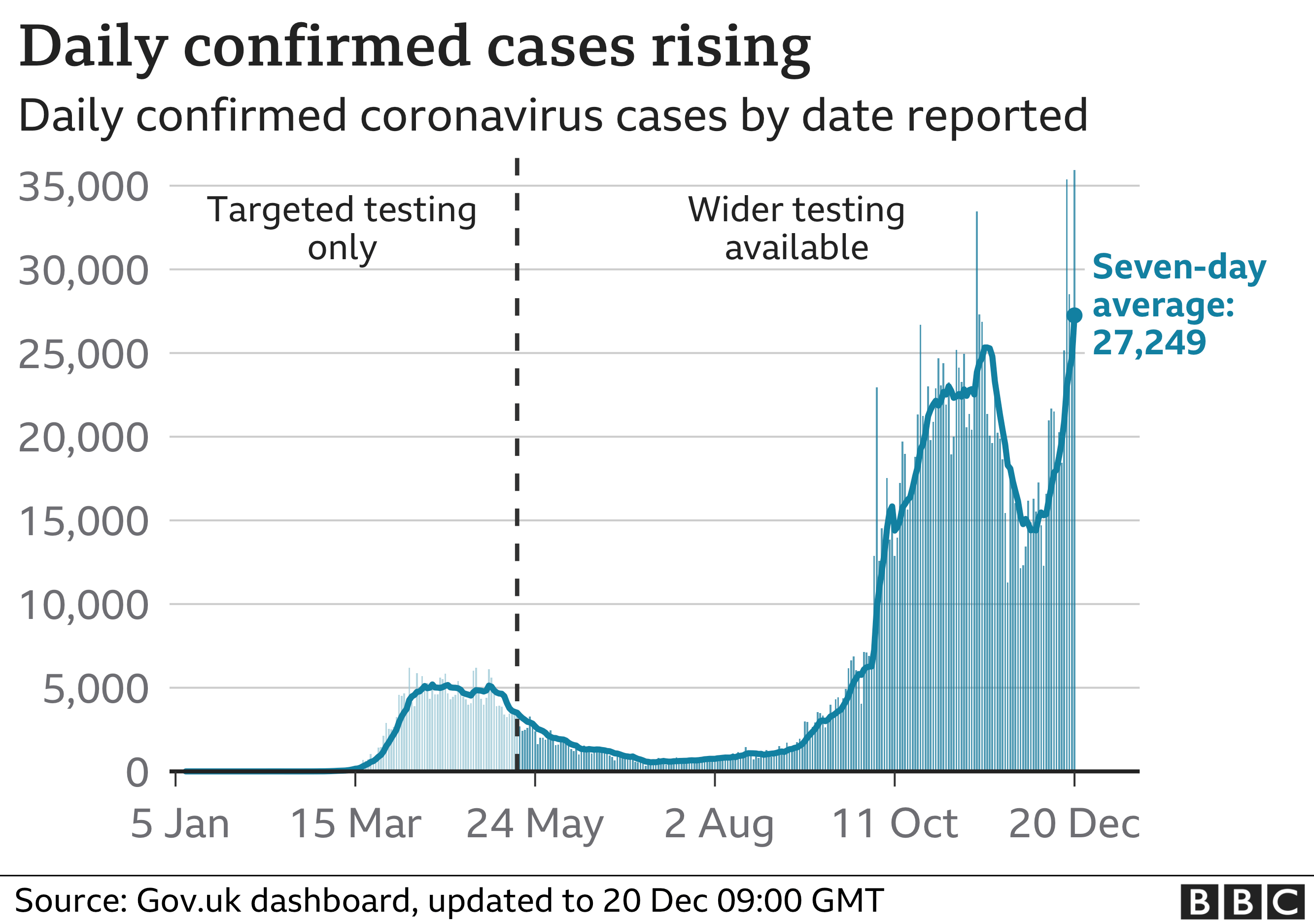 About 10,000 lorries travel between Dover and Calais every day during peak periods such as Christmas.
But Downing Street has urged people to "shop normally" in the run up to Christmas, adding the UK has "diverse and resilient supply chains" and the majority of food does not enter the UK via Calais.
In other key developments:
Source: https://www.bbc.co.uk/news/uk-55391289